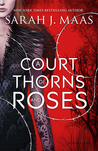 A Court of Thorns and Roses by Sarah J. Maas
My rating: 5 of 5 stars
Holy Cauldron! This was exactly what I expected from Sarah when I saw the blurb. This story was magic. That's what happens when you join one of the best writers in Fantasy and a retelling of Beauty and the Beast, which happens to be my favorite princess fairytale. Once I started this book it was hard to make myself stop, I just wanted more of the world, the characters, the story. And now I have to wait a whole year till the next one.
TORTURE

"I threw myself into that fire, threw myself into it, into him, and let myself burn."
I usually like to start with my favorite thing about the book I'm reviewing but with this one it's very hard. I loved the world & the story, I loved Tamlin, Feyre, Lucien, Rhys, Nesta, and the list goes on and on.
*picks one randownly*
Feyre's family it will be then. I really liked their relationship! At first I wanted to throw frying pans at their head but I guess they grew on me. And my least favorite became my favorite. Nesta! And I ship her with Lucien maybe Rhys would be good too. I don't care that they haven't met. I'll go down with this ship no matter what.
Let's move to both Lucien and Rhys. Lucien I loved since the beginning but with every time he showed up I just loved him more. He's just my kind of guy!
Now, my relationship with was Rhys. I always felt intrigued by him and really wanted to like him but I never knew if he was trustworthy or not.
It's our main characters turn Tamlin and Feyre. First I love her name and I really don't like his'. But apart from that he was perfect! I loved the moments when he was showing his world to Feyre and when he opened up to her! Let's not even mention those NA moments. Could someone explain me why isn't Throne of Glass NA?! Because damn! Sarah can write sexy steamy scenes like no other! Anyway I also really liked Feyre. I am not the biggest fan of comparing books,but I'll only say this, Celaena is still my favorite.
"We moved together, unending and wild and burning, and when I went over the edge the next time, he roared and went with me."
I absolutely adored the similarities between this book and the original Beauty and the Beast! I loved the agreement for her to with him, I loved his curse, I adored their relationship and how it evolved. Let me tell you that this wasn't insta love! It took time!!! And… I NEED MORE. I really liked the villain! That last part was the best and the worst for my poor heart. The way things unraveled was phenomenal.
"I was as unburdened as a piece of dandelion fluff, and he was the wind that stirred me about the world."
Finally the world. I love Fae! I adored seeing the different species and their rituals and religion. I loved their powers, the Courts and the hierarchy. And I really am curious to find out more!
I'm really unsure on how Sarah plans on continuing this story. Will she keep following Tamlin and Feyre as the main characters or will she move her focus to either Lucien or Rhys?! I'm not even sure which one I would be happier to see. I'm up for both. Just hurry and bring it on!