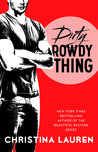 Dirty Rowdy Thing by Christina Lauren
Omg I just Love Christina Lauren's Books!! They're freaking hilarious and the male characters are unbelievably hot!!
Finn was so so intense!! Damn I wasn't expecting him to be so kinky ;P I really liked him !!
Harlow was so damn funny she said what she thought and I loved it!!
So during book I just couldn't stop thinking about Oliver and Lola!! God every time they were in the same scene as Harlow and Finn I just wanted them to declare their undying love for each other!! And I swear to god if they don't end up together I will probably not like the next book very much…and I will cut someone.